What Pinpoint

does
Pinpoint enables brands to target where, what, and how to sell more products in symbol and independent convenience retail. With modules to suit the needs of any brand, you can choose to license the platform to get easy access actionable insight, get a one-off insight read to answer your key questions, or get a direct store level data feed to integrate with your own data platforms.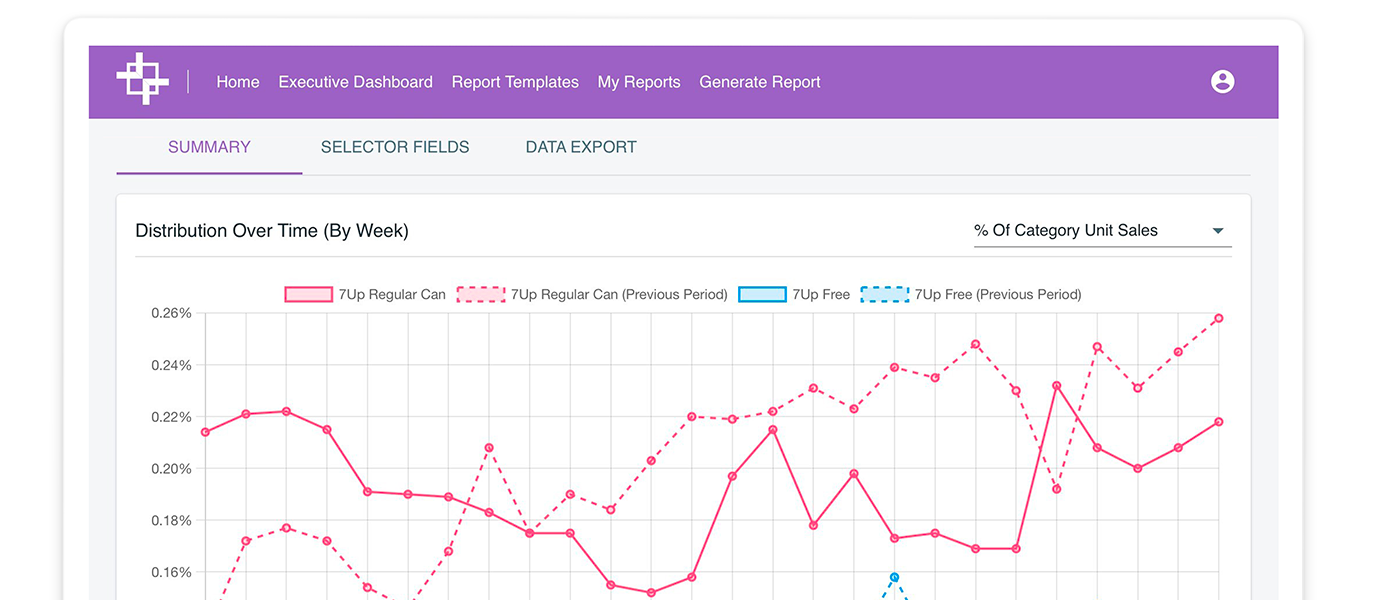 Benefits Set your strategy and direction using real EPOS, not aggregate reads, using data from over 11,000 stores Master your data and unlock ROI through all your EPOS data being in one platform Tailor Pinpoint data according to your brand need and business set up through a modular product approach Understand everything about your brand through our transaction level data Intuitive and easy to use software, Pinpoint is for everyone, not just analysts
Unlock your
double digit growth potential

in symbol and independent retail.
Get data. See insights. Take action.
Pinpoint helps brands to unlock their growth potential in the convenience channel with confidence. As a brand, it's critical to understand where category growth or decline is being driven. Pinpoint allows you to do that at the product, brand, regional and fascia level via intuitive interrogation of sales performance and market share with the ability to benchmark against competitors. 
These are no ordinary dashboards - data is drillable and can be manipulated by the user to display a brand's visual story in a way that can be easily read and understood by anyone. It gives brands valuable insights on what's changed and predicts future trends, truly bringing light to your channel, account, geography, and store strategy. 
Access the
largest pool of data

in the UK symbol and independent convenience retail sector
Over 11,000 stores and counting
Pinpoint is the brainchild of people who understand the importance of the getting your strategy and direction right in convenience. When it comes to data, our combined expertise at the pivotal point of purchase means that Pinpoint focuses on action and ROI. 
In addition to sales and market share measurement, it easily allows the user to: 
Analyse product distribution levels and percent across channel or within a particular geography or fascia for different time periods.  
Optimize pricing strategy within the channel through interrogation of selling price vs RRP and percentage split of different pricing across the estate/geography/fascia. 
Bring integrity to the Convenience data market – Pinpoint is the only tool on the market that enables brands to access data and analytics at transaction level, for the largest set of symbol and independent EPOS data available. 
Hear what our clients say...
Pinpoint 'lifts on the fog' on sales data in a deeply complex retail environment. The confidence that Pinpoint data brings to our decision making is becoming a key enabler in setting and delivering our strategy to grow share in Symbols and Independent Convenience stores. As a data-led business we are now able to invest with confidence in the Wholesale and Impulse channel where we may have been more cautious previously.
Mark Herbert - Business Unit Controller, Pernod Ricard