New feature announcement: Predictive supply chain alerting goes live on DART this month
New feature announcement: Predictive supply chain alerting goes live on DART this month
22 March 2023
Author: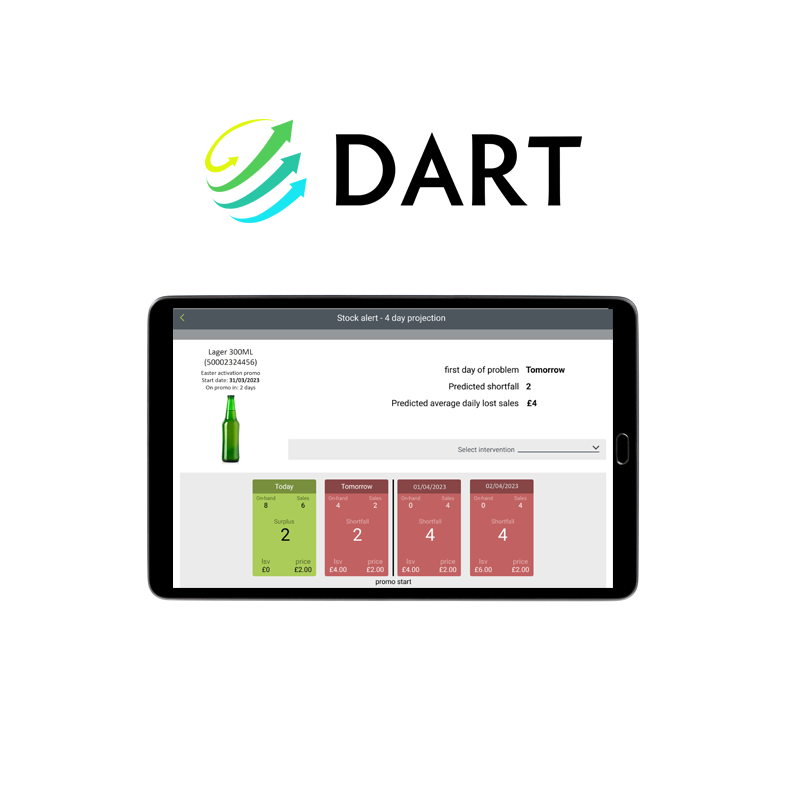 Officially the most advanced EPOS data and analytics tool available in Grocery
Are you ready to see into the future with DART? Now you can intervene on potential availability and promotional compliance issues before they even appear…
Today, we're excited to announce a new feature for our DART Grocery EPOS data tool. This new feature will allow everyone in the organization from Account Teams to Supply Chain to Field Team to predict and address potential issues before they manifest. Predictive supply chain alerting is now live on DART, enabling brands to take corrective actions on promotional and on-shelf availability before gaps appear.
Predictive alerts will now appear in the application and include intuitive visualisation of when an inventory issue will surface as a problem in the store. This is set to transform the way brands unlock their sales potential. In addition to DART's current features, this new development puts the application ahead of any others available on the market.
Here's what our Thumbprint Managing Director, Gordon Neil has to say about the new development 'There's been noise in EPOS analytics about predictive alerting for some time. We've been using DART to predictively alert recurring availability issues since we launched over 5 years ago. In launching predictive supply chain alerting, our vision was simple – Take the intuitive and accurate direction that DART is known for, and apply it to enable corrective intervention before an issue appears on shelf.
We've always started with the shelf in mind with DART; that moment of truth where shopper and product meet is the interaction that matters most. Adding to DART so that brands can take another action to ensure the shopper always sees, and can buy, their products, just made sense. We're excited to see brands improving availability and promotional compliance even more through DART, ultimately selling more and delighting shoppers.'
Don't get left behind. Talk to us about using DART to maximise your sales potential.